A: How can i update a Database?

If you want to update a DB please tap



–>

side menu

–>

at the bottom "Setup"
and then

–>

button "DB update"

Now you can tap etc. Airports, Airlines to download new data.
In this moment you must be connected to internet.
The date on the button informs you of the latest DB update on the server, not the actual version of DB on your device

B: I don't want to receive any push notification

Open settings in your device (iphone, ipad), go to
Notifications

–>

Air Codes

–>

Allow Notifications

–>

OFF.


C: I want to support Air Codes

If you want to support Air Codes, you can choose


D: My In-app purchase is not working

1.

Delete the app and download it again.


2.

Press restore purchases
(wifi or mobile internet is required), wait a moment.


3.

When does it not help, repeat step

1.

and
buy In-app again (if you bought it before you won't be charged again)


4.

If nothing helps (it can happen) it's rare bug
pls. wait for the invoice from Apple, and then tap on "Report a problem" and continue as instructed, you will be refunded.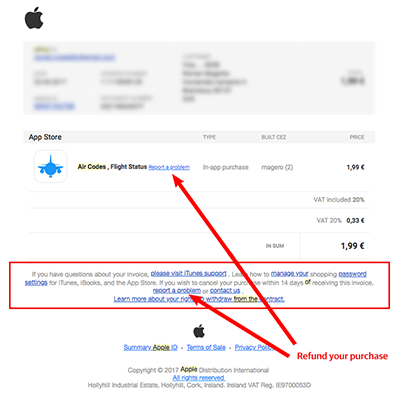 ................................................................................................................................

No user data are collected on this web site
Air Codes © Roman Magerko